Hello community, I hope you are doing well and developing great things!
The Bible, what we have been working on for a long time, is in the marketplace!
This template is not a clone of an application!
The Bible is a template of knowledge accumulated over many years trying to reduce Bubble's steep learning curve. It has educational content and useful stuff. Once you absorb the information contained in the template, you will see that you are at another level in Bubble.
It introduces and exemplifies the use of all events and actions that come with Bubble when you create a new application. You see how similar things can be done in different ways.
It has clear examples for Bubble workflow API and Data API.
Almost all of the operators and variants - no, you didn't read that wrong - are made interactive
You'll get expert tips (including some Bubble hacks) right away.
It contains the frequently needed RegEx patterns.
It provides easy access to Bubble manual and Bubble's official videos.
Features,
100+ action blocks
Create, delete, manipulate, there is almost one of every example you can think of!
130+ operators
Text, Date, Number, Boolean, List, Geographic, Data and General
50+ tips and warnings
Warnings, Tips, Expert Tips
12 Backend Workflows
Endpoints, Recurring events, Database change triggers
100+ Knowledge
Things to know when developing Bubble apps
8 API Call
Manage your own application with the Bubble API
17 Most used Regex patterns
Regex is indispensable!
10 Widgets
Send notification to browser, Right click context menu and others!
10 Plugins
Mouse & Keyboard Interaction, API Connector, and more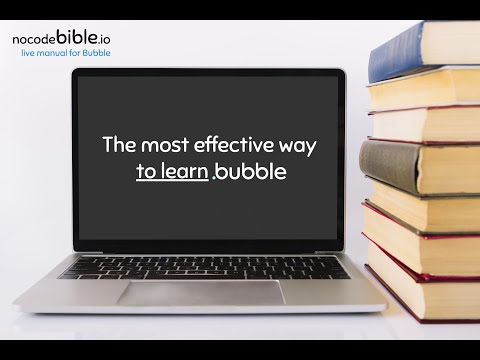 Special actions such as sending verification codes in a limited time.
Different approaches to manage the same type of data.
Global creator, editor and deletion examples.
Direct links to Bubble manual and Bubble's official videos from within the app!
All at hand! Read, review, play, repeat, find a way to do better! This is exactly why the Bible was introduced as a template!
Get limited discount coupon for 15% ! Coupon code: BIBLE
All questions and feedbacks will be welcome!
Best,
Eren