Hey Bubblers,
we've just finished a complete revamp of our most popular paid template - Headstart! Check out all the features it's coming with as well as the video overview and live demo!
Headstart is a multi-purpose no-code template that has everything you need to launch your website quickly without code on the Bubble platform. Use this pack to get a "headstart" on launching your app by incorporating responsive design, plug-and-play landing pages and eCommerce functionality (full catalog page, product page, cart page, wish-list, Stripe checkout pages).
Make use of chat, blog, contact form, user profile, and login/sign up pages. Manage your site using admin dashboard components.
The template comes packed with a large variety of UI elements like panels, efficient navigation elements, CTAs & alerts. You will also notice that our best plugins accompany this template, check the plugin page for a complete demonstration and how they are set. Check the plugin page for demonstration and how they're set.
Note: You need to subscribe or purchase the plugin in order to use it after purchasing this template. Otherwise please simply remove the plugin from the template.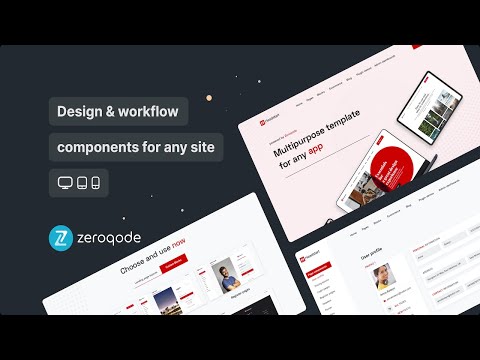 FEATURES:
Main Landing page
3 Landing page layouts
One time payments through Stripe
E-commerce Catalog (includes product filtering by price, and new/latest arrivals, adding products to a shopping - - cart or to a wish list, search)
Product & "create a product" pages
Checkout Page
Chat/Messaging
Blog/Articles
Contact forms
Efficient Web Forms
User profiles variations
Login/signup pages
Huge set of UI elements like icons, buttons, paragraphs and many more.
Blog functionality
7 Plugins demos
Responsive design
And more
OUR HEADSTART TEMPLATE BENEFITS INCLUDE:
Save thousands of dollars compared to having it developed with traditional coding. Our no code developers have also ensured the best possible quality in creating this template.
Reduce design and development time to a fraction of what it would take to have it coded.
Launch almost immediately (some Bubble knowledge is required)
WHAT CAN YOU DO WITH HEADSTART?
Use it as a base for almost any web site/application as it has almost all of the most required components/workflows
Start or redevelop your ecommerce store
Create a portfolio site
Have your startup or corporate page improve its functionality and payment integrations by adding in messaging, profiles, payment with stripe and much more!
Live demo: http://uikitdashboard1.bubbleapps.io/
Zero Code Conference 2020. October 7-8
Levon Terteryan
Founder @ Zeroqode