Hey all!
We're happy to announce that we finished updating our Headstart Pro - Multipurpose | No-Code Template by Zeroqode to the new Bubble Responsive Engine. It's a fully-responsive app across any user device.
Headstart Pro is a multi-purpose no-code template with everything you need to launch your website quickly without code on Bubble.
Use this pack to get a "headstart" on launching your app by incorporating responsive design, a plug-and-play landing page, eCommerce functionality, and subscriptions using Stripe to bill users for your products/services.
The template comes with a batch of our best plugins. Check the Plugin demos page for the demonstration and to see how they're set.
FEATURES:
⁃ Main landing page & 3 additional landing layouts
⁃ Various pages
⁃ Huge set of UI elements like icons, buttons, paragraphs and many more.
⁃ Ecommerce functionality
⁃ One-time payments & subscriptions powered by Stripe
⁃ Blog
⁃ Chat
⁃ 8 Plugins demos
The anatomy of Headstart Pro:
⁃ 3 landing page layouts: corporate, portfolio, products/services
⁃ Chat
⁃ Contacts page with contact form
⁃ Subscriptions (Free plan & two paid plans)
Page components
⁃ User profiles variations
⁃ Pricing blocks
⁃ Login/sign up pages
UI Elements
⁃ Efficient web forms (horizontal tabs, boxed horizontal tabs, accordion tabs with & without icons)
⁃ Buttons
⁃ Actions/notification states
⁃ Typography
⁃ Catalog page (includes product filtering by price, and new/latest arrivals, adding products to a shopping cart or to a wish list, search)
⁃ Product detail page
⁃ Wishlist
⁃ Add a product page
⁃ Cart
⁃ One-time payments powered by Stripe
Blog (adding & displaying articles)
Plugin demos (8 Plugin demos)
Admin dashboards
VIDEO: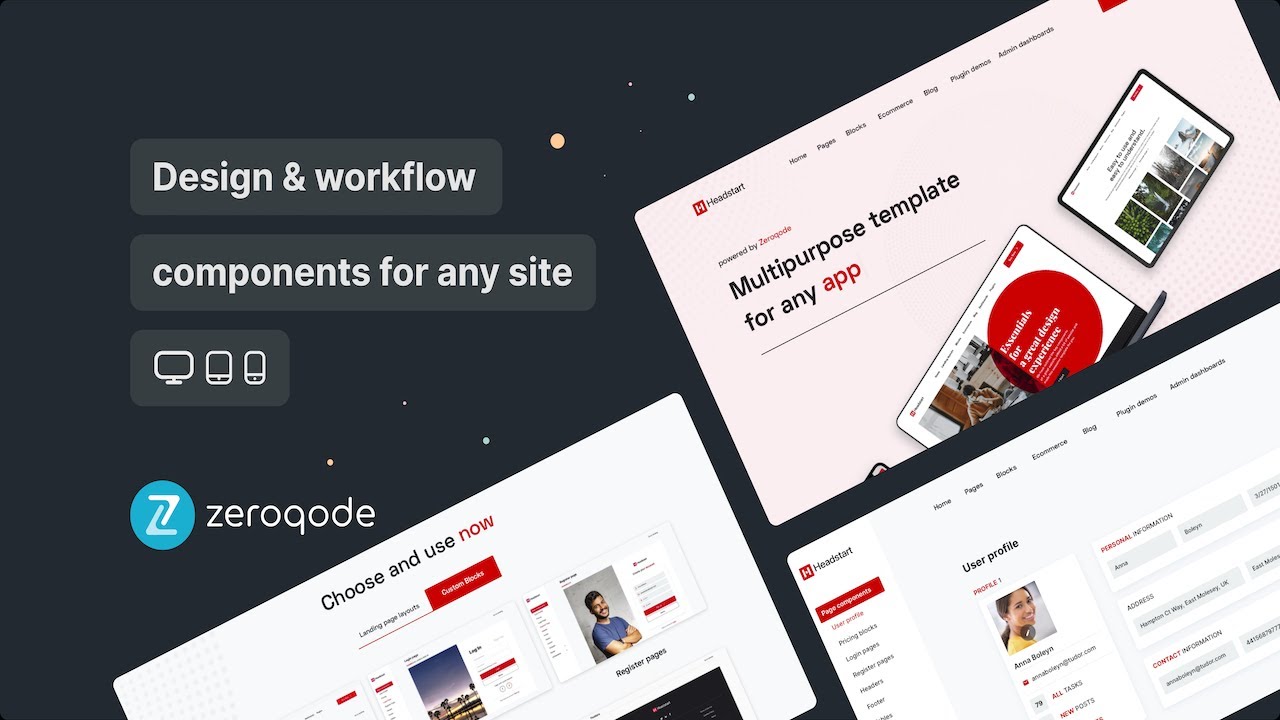 Headstart Pro | Multipurpose Pack Template Video Presentation by Zeroqode
LIVE DEMO: https://uikitdashboard1.bubbleapps.io/
DOCUMENTATION: https://docs.zeroqode.com/templates/headstart-pro-multipurpose-pack-template
Levon Terteryan
Founder @ Zeroqode
#1 Bubble Publisher and Developer
130+ Bubble Templates


25+ Bubble Courses


300+ Bubble Plugins


Convert Bubble app to iOS & Android

No-code Development Services